Footsteps Through Time
|
Home


Lemuel William Harrington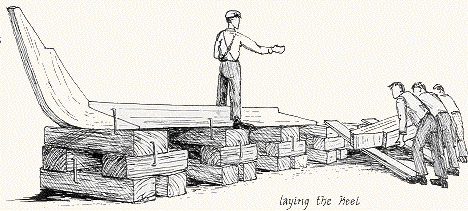 William Harrington was born in the Province of Quebec, Canada in 1815. His parents, William and Catherine Harrington were of English origin. It is thought they may have originally come from Ireland. It is also probable that William was a soldier. In the 1840's, there was a tranfer of land in Nova Scotia, from William and Catherine to their sons, William and Henry. William, Jr., made his living as a shipbuilder. It is almost certain heworked for the Murphy, Mingo and Ramsey Shipbuilding Co. because there are so many connections between the Mingos and Harringtons.
From the book The Days of the Ships, Tatamagouche, Nova Scotia by Patterson we found the name of some of the Mingo ships built between 1871-1873, when William would have been there.
In 1871 a Schooner named Two Sisters, 58 tons, was built. She was wrecked in the Strait of Canso near Cape George in November, 1871. She was sailed by part owner James Ramsey. Ramsey and others landed in a snowstorm and following a fence line, got to the home of a priest where they were kindly treated.
In 1872, the Brigantine named the G.A. Pyke, 128 tons was built. She was sold in Scotland in 1874 for £1600.
In 1873, the Schooner Trial, 52 tons was built. She was wrecked in the wild Canadian waters off Cape Brenton in December 1875. The seas around Nova Scotia are know to be treacherous, and only brave and hearty men dare to venture forth , especially during the winter season.
Tatamagouche is an Indian name meaning "place where two rivers meet".
The village was once an Acadian settlement in the early 1700's. It is located on Tatamagouche Bay, and was one of the major centers of communication and trade with the French fortress of Louisburg. During the summer of 1745, the fort was under siege by the New England forces. Help was on the way. Lieutenant Paul Marin's allied force of French and Indians were on route from Annapolis Royal to the besieged fort when they were surprised in Tatamagouche Bay by Captain David Donahew of New England and three armed vessels. Donahew drove the French ashore, and chased the troops into the woods preventing the reinforcements from reaching Louisburg before its fall.
Ten years later, another group of New Englanders, acting under the Expulsion orders from Governor Lawrence, forced the Acadian settlers to march from Fort Cumberland in Amherst, then they burned the village, including all the crops, homes and captured two schooners laden with supplied for Louisburg. It was from Tatamagouche that the deportation of the Acadians began after the English victory. Nothing remains from those stormy days of colonial strife. The town goes about it's business like nothing ever happened. It is one of Nova Scotia's most peaceful maritime and farming communities.
William married his first wife, Louisa Ferdinand on August 19, 1841 in Tatamagouche, Nova Scotia. They were married by Rev. Ross. William appears on the 1851 Census of River John.
William was on the 1871 Census of Tatamagouche, Colchester County, NS. He was 56. His wife at that time was Susan Mingo. She was 17 years younger. There was a son John who was 25, born in 1846. John was William's son by his first marriage. William and John listed their occupation as carpenter. Six younger children were on the list, Kate, 16 who was working as a servant, George W. 14, James A. 12, Agnes 10, all going to school, and Carrie 8, and Annie who was 1 were at home.
Susan had been a Mingo [Menegeaux] before her marriage, and she listed her origin as Swiss. The next record we have of the Harrington family is the census taken ten years later in 1881.Susan must have died sometime between 1871 and 1881. William was a widower, age 65.His oldest daughter Christena Harrington age 30 was there and so was Kate, age 27 and George, 24.
John, James,Agnes and Carrie were not listed on this census. Annie was 11 and there were two young children, William 6 and Henry 1. These youngsters were probably the grandchildren of William.
William was my great grandfather. His daughter Annie McKenzie Harringon was my grandmother.
Carrie and Annie emigrated to Attleboro, MA sometime before 1887.
More research needs to be done to find what became of the other Harringtons of Tatamagouche. William may have died before the next Nova Scotia Census, or he may have emigrated to New England with his daughters as he was not listed.