Footsteps Through Time
|
Home


Francisco Da Costa

Francisco da Costa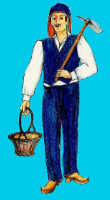 Francisco was born in 1849 in Sao Jose, Ponta Delgada, Sao Miguel, one of the largest islands in the Azores.
His father was Manoel da Costa and his mother was Jacintha de Jesus. The first record I have for him is his marriage to Rosa Emilia Jacintho on July 11, 1874 in Santa Cruz, Flores, Azores. I do not know if he emigrated to the United States, or if he died before his wife, parents and two children emigrated. His death record has not been found.
His parents Manoel and Jacintha arrived in New York on July 2, 1892 aboard the ship SS Olinda. Manoel was listed as a laborer and his wife Jacintha as a domestic. Francisco's daughter Maria, age 18 came with them. They sailed from Linha de Vapores, Portugal.