Footsteps Through Time
|
Home


Harriet Margarete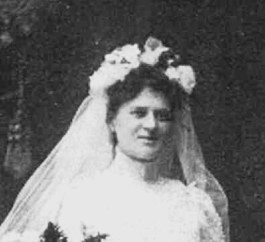 1905 Wedding Portrait
Harriet Margarete Cole
1882-1963
Harriet Margarete Cole entered the world on October 27, 1882 in East Providence, Rhode Island. She was named for both her grandmothers Harriet Roach Lewis Cole and Margaret Mary Sullivan. She was the only child
of Charles W. Cole and the second daughter of Julia Ann (Sullivan) Cole.
There is a mystery concerning her birth which will, no doubt, never be fully understood except by her parents, Charles and Julia. At the time of Harriet's birth, Julia was married to Arnold F. Cole. Arnold was a half brother to Charles. It is a fact that Julia, who was twenty three at the time, wished to make it very clear to posterity that Charles was the father of her daughter. She herself reported the birth information to the East Providence Town Hall, stating distinctly the name, age, birthplace and occupation of Charles, the child's father. He was thirty eight. She and her young husband Arnold, who was twenty seven, must have come to terms with the situation. Both brothers worked for the local oyster company, and all remained friendly. Harriet was fortunate to have two fathers who loved her very much. Charles remained in the family picture all his life. So much so, in fact, that in later years, four more children were born to Julia and Arnold, and one of these children was named Charles, and another Arnold.
Harriet was known as the daughter of Arnold and Julia. The family lived in the Watchemoket section of East Providence. For a time they lived at 65 Second Street and for many years they were at 81 and 87 First Street. She had a sister Mary, who was one year older, and three brothers, Charles, Arnold and John. Another sibling died as an infant. All the children attended school in East Providence, probably the Mauran Ave. School in the neighborhood.
When Harriet was seventeen, she and her sister both worked at the Washburn Wire Company in Rumford. They commuted to work daily by train from the Watchemoket Train Station.
A young man worked there. His name was Tom O'Brien. I believe Harriet met him there. Tom courted Harriet, and on October 25, 1906, in Sacred Heart Church in East Providence they were wed. Harriet wore a beautiful satin gown. In their wedding photograph, Tom is a serious young groom seated proudly with his lovely young bride by his side.
Harriet and Tom were married for fifty four years. She lived three years longer than her husband. During their years together, Harriet was alone a great deal. Tom was often away at sea and she alone had the responsibility of their large family. They had seven children, Harriet, Mary, Catherine, William, Arnold, Thomas and Margarete. Young Arnold died accidentally at age twelve. Ten days later, her seventh child was born.
Times were sometimes lean, especially when the allotment checks from the service were late. It was at times like these that her "Uncle Charlie" would drive up with a big wagon full of fruit and food for the family. She did not know he was helping to feed his own grandchildren.
I remember "Nana" as a wonderful, warm and caring person. She was always smiling and cheerful. She dearly loved her family, especially her grandchildren. She would have Easter baskets for all of us, and save pennies just for me. Her home was filled with love and laughter and good times. She was always at the center of the fun. She served huge family dinners, and made delicious grapenut pudding. I use her little green "cranberry" dish every Thanksgiving, as I serve the sauce she made famous.
Harriet died in East Providence on June 27, 1963.
I wonder if she ever guessed Charlie was her father?