Footsteps Through Time
|
Home


Ruth Field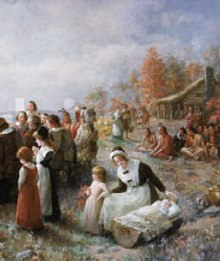 Ruth Field
Ruth was the youngest daughter of John Field and Ruth Fairbanks Field. She was born in Providence, Rhode Island in 1649.
John Field, her father,signed the first compact of 1637, and the agreement of 1640; the latter document
has also the signature of William Field. The Home Lot of John, on the Towne Street, adjoined that of William
on the South. William's house stood nearly on the site of the Providence Bank, a building erected by Joseph
Brown in 1774 and occupied by him as a residence.
The history of the early Fields is somewhat obscure. It is believed, though positive proof is lacking, that John
and William Field were brothers, sons of William, and grandsons of Sir John Field, the astronomer of
Ardsley, a village between Wakefield and Bradford in the West Riding of Yorkshire. Hubertus de la Feld, the
progenitor of the English Fields, who is said to have accompanied William the Conqueror to England, traced
his family back to the Chateau de la Feld, near Colmar, a town south west of Strasbourg in Alsace, where the
counts of that name had been seated for centuries. The Cathedral of Strasbourg received many benefactions at
their hands, and into the chantries they founded, several of the family were interred. The arms of the
Yorkshire Fields, "Sable, a chevron between three garbs argent" were confirmed to Sir John in 1558, and an
additional crest granted in recognition of his service to science. "A dexter arm issuing out of clouds, proper,
fesswise, habited gules, holding in the hand, also proper, a sphere or."
John Field of Providence died in 1686, having four children: Hannah, the eldest married James Mattewson and
had a daughter Isobel, wife of John Brown.
Ruth, the youngest child married January 7,1669, John Angell, son of Thomas. It was said that John was a man of large frame and exceptional strength, noted for his calm manner and responsible behavior. John and Ruth FieldAngell had six children, five sons and one daughter. They were Thomas born 1672, Mercy born 16754, John, Daniel born 1680, James in 1684 and H ope in 1685. John remained in Providence during King Phillip's War when the town was burned. He had a share of the captive indians. In 1686, he was town deputy. He gave his son John his mansion house and land on both sides of the Woonasquatucket River. His wife, Ruth, was the administratrix of his estate with his son Hope. Their daughter, Mercy, born 1675, married Benjamin Smith. John Angell died on July 20, 1720.
Mercy is our ancestor. Ruth Field Angell died in Providence in 1727.
See Ruth's Ancestors
She is number 1699 in Our Lineage