Footsteps Through Time
|
Home


Anne Fiske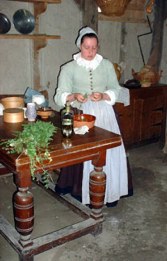 Ann Fiske
Ann came to Dedham, Massachusetts with her husband, Francis Chickering, about 1640. She was the daughter of John Fiske of Suffolk, England and his wife Ann (Lanterce) Fiske. John Fiske was the son of William Fiske and Ann (Astigne) Fiske from Sibbenham, Long Bow, Norfolk County, England.
The Fiske surname comes from the French work "fisc "and it means revenue or public funds.
Ann's father was a seventh generation descendant of Lord Symond Fiske, Lord of the Manor of Standhough Parish
of Laxfield, Suffolk in the year 1399-1422. This family was assigned a coat of arms.
Ann's four brothers also emigrated to New England.
The Reverend John Fiske came to Cambridge, Massachusetts in 1637. He held the varied positions of physcian, planter, preacher and schoolmaster while in Wenham.
David was in Watertown in 1637.
Nathan became a freeman in the same town in 1643. He later removed to Wrentham, Massachusetts in 1652. He died there in 1676.
William was in Salem in 1637. He was in Wrentham by 1654. While there he served as a deputy to the court. He was a freeman and a husbandman by trade.
Ann and Frances Chickering were married in England in 1630. Seven years later they emigrated to New England with their two daughters, Ann and Mary. Four more daughters were born to them in Dedham between 1638-1648. They had no sons.
See Anne's Ancestors
She is number 6775 in Our Lineage