Footsteps Through Time
|
Home


Matthew Taylor and Elizabeth Barr


Matthew Taylor was born in Ireland, of Scottish parents. His parents were James Taylor and Catherine (Fulton )Taylor. James Taylor had been a journeyman stonemason before his death prior to 1869. Matthew returned to Scotland before 1868. It was there in Dundee, Scotland he met and married Elizabeth Barr, daughter of Robert and Rose Ann (Savage) Barr. They were married on March 19, 1869 at Hawkhill House,St. Peter's Parish, Dundee, according to the rite of the Free Church of Scotland. Matthew worked as a dresser in a linen factory. He was 24. Elizabeth was 26, a spinner in a jute mill. She could not write, but made her mark on her marriage certificate. They both lived at 153 Hawkhill, Dundee, Scotland. Witnesses to their marriage were Margaret and John Ogilvy. Elizabeth was the daughter of Robert Barr who also worked in a jute mill as a weaver. Her mother was deceased at the time of her marriage.
Their first child, Robert J. was born June 9,1869 in St. Andrew's Parish, Dundee. He was born at home in Lowden's Court, Lilybank. His father Matthew was a power loom dresser.
In 1872, Elizabeth, who was pregnant, and her husband Matthew, boarded a ship with their three year old son Robert J., and began the long journey to America.
While at sea, Elizabeth gave birth to her second son, James Joseph on February 12,1872. The Taylor family arrived in the port of Boston, and settled in Attleboro Falls, Massachusetts. While there, more children were born to them. Matthew in 1873, Catherine in 1875 and Elizabeth in 1877.
On September 10, 1875, little four month old Catherine died and was buried in Mount Hope Cemetery in North Attleboro.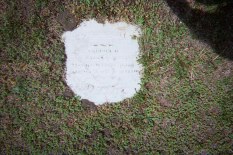 Gravestone of Catherine A. Taylor
Four Months Old 1873
Mount Hope Cemetery, North Attleboro,MA
The family then moved to Providence, Rhode Island. Matthew was working as a gold plater. Mary Ann was born in 1879 while they lived at 132 Beacon Street. By 1881 they were at 55 Clinton Street. Margaret Shattuck Taylor was born there in 1881, and Thomas in 1883. At that time the family was living at 55 Clinton Street. Sometime between 1883 and 1885, Matthew died. On the 1885 Rhode Island Census, Elizabeth was the head of the house. Young Matthew went to work as a helper. He was only ten.The family then fell on hard times. They moved to 46/47 Wickenden Street by the summer of 1887. On August 6, 1887, little four year old Thomas died. In 1897 James died at the age of 25. Elizabeth died on July 11, 1899 at 48 Wickenden Street. She was only 53.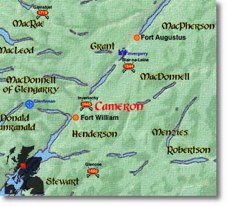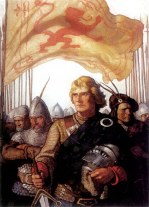 The Taylor Family
The Taylors who are affiliated with Clan Cameron as a sept are said to be descended from Donald "Taillear dubh na tuaighe" (Black tailor of the [Lochaber] axe), who lived in the time of Mary Queen of Scots. He was the "natural son" of Ewen Cameron, 14th Chief of Clan Cameron and a daughter of the Chief of Clan MacDougall, out of wedlock. Ewen had Donald nursed by a tailor's wife at Lundavra; thus the name Taylor. After his father's death (Ewen died while a captive of the Chief of the MacDougalls, held prisoner until he agreed to marry the Chief's daughter), Donald would became the greatest warrior that Clan Cameron had even known. Acknowledgement of his parentage by his deceased father not being enough to ascend to the Chiefship, he excelled in the field of battle, usually against the Cameron's principal foes, the Clan Mackintosh and usually with his trusty Lochaber axe. In time he would flee rising Cameron-Mackintosh internal Clan treachery, with a band of loyal followers, to Cowal. The descendants of his followers there were for ages known as Mac an taillear; later as Taylor. A tribute to Donald remains in the Cameron Coat of Arms, where his likeness, along with a Lochaber axe, borders/protects the outer shield.