Footsteps Through Time |
Home


Thomas Francis Joseph O'Brien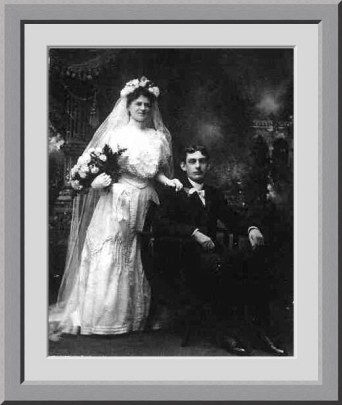 Harriet and Thomas 1905
1881- 1960
My grandfather,Thomas Francis Joseph O'Brien, was born on June 5, 1881 in Woonsocket, RI. His parents, Patrick and Mary were recent immigrants from County Leitrim, Ireland. Patrick was twenty seven and Mary was twenty two when Tom, their only child was born. They lived at 22-25 Church Street in Woonsocket, a small neighborhood of new arrivals from Ireland. There were several other O'Brien families in the area, perhaps they were relatives. Patrick was employed in a rubber boot factory.
The following year they moved to 60 Church Street in the same town. By the year 1900, the O"Brien family were owners of a cozy little home at 73 Massasoit Ave. in East Providence. Tom was nineteen in 1900, and he was working as a Railway Clerk at the Watchemoket Square train station.
It was about that time he decided to join the RI Militia. He signed up for a three year period in the Hospital Corps on December 7, 1900.
His enlistment papers state " he was entirely sober, and of lawful age, and duly qualified to perform the duties of a soldier in the Rhode Island Militia. This soldier has gray eyes, dark hair, dark complexion and is five feet eleven inches high." He did not use tobacco or alcohol. His teeth were excellent, vision perfect, hearing good . He weighed 148 pounds. It was noted that he was bright and intelligent and physically capable to join the Militia. He signed to serve for three years, but on November 20, 1902 he was transferred into the Fourth Division, RI Naval Battalion. During this time he served on the USS Columbia and the USS Kentucky as a Seaman and a Yeoman 2nd Class. His first enlistment was over on December 7, 1903.
He again enlisted in the same unit on December 27, 1903. His occupation was given as Clerk. He was now classified as a Seaman with blue eyes, brown hair, medium complexion , five feet ten and one half inches high and 140 pounds. He was twenty three years of age. His personal history was good, he used tobacco but no alcohol, his teeth were good, his vision perfect and he was in very good health. He was single. During this tour of duty he served on the USS Prairie and the USS Alabama as a Yeoman. This enlistment ended on December 29, 1906.
It was during this enlistment that Tom and his sweetheart, Harriet Cole married. Their wedding was on October 25, 1905 in Sacred Heart Church in East Providence. Tom was twenty four and Harriet was twenty three. Her step father, Arnold Cole was also a man of the sea. He was a pilot on an oyster steamboat in Narragansett Bay. I am sure they must have had many interesting conversations.
In 1906, their first daughter Harriet was born. In 1907 Mary Louise arrived..
On January 30, 1907, Tom re- enlisted in the same Naval unit. He served on the USS Rhode Island and the USS Louisiana. He was a Yeoman until June 16, l909 when he was Commissioned as a Lieutenant JG. He remained in the service on the USS New Jersey, and on May 26, 1915 he was commissioned as a full Lieutenant. When Tom was off duty, he was working as a Postal Clerk and as a Parcel Agent for the New York, New Haven and Hartford Rail Road. By 1915, the O'Brien's had five children, Harriet nine, Mary eight, William five, Arnold four and one year old Catherine.
Between May 26, 1915 and April 5, 1917 he was stationed on the USS Virginia. On April 6, 1917 he was called into Federal Service and was assigned to the USS Aileen. He is listed as Acting Executive Officer. The United States of America was at war with Germany. He remained on active duty assigned to the Aileen out of New London, Connecticut until March 12, 1919. The Aileen was used as a patrol ship guarding the shores of the USA. He continued in the service of his country on the USS Wheeling after being transferred to the USNRF until he was relieved of active duty on September 18, 1919.
On September 29, 1919, he received an Honorable Discharge. Veterans of the Great War of 1917-1918 were honored in a ceremony at the Church of the Sacred Heart in East Providence in September of 1919. His name, along with other veterans from the parish, was engraved on a Victory Bell which was then placed in the bell tower of the church. Thomas was awarded a Victory Medal on September 30, 1921 for the "Faithful and Patriotic service you have rendered to your country in the War with Germany."
On the 1920 Census of the USA, the O'Brien family had grown. Tom was thirty seven. There were now six children. Thomas Francis, my father, was born on May 20, 1917.
Tragedy struck the family on June 20, 1924 when twelve year old Arnold died from injuries suffered in an accident. He was buried in Saint Francis Cemetery in Pawtucket. Harriet gave birth to a daughter, Margarete ten days after the death of her young son.
Thomas continued his service in the Navy Reserves. On March 2, 1925 he was Honorably Discharged. He had been a military man for twenty five years. He was forty four.
Between 1929 and 1934 the family lived at 35 Fourth Street in East Providence. He was working as a Ship Captain, a position which was to last until the early 1940's.
In 1934, they lived at 70 Burgess Ave.
I believe he was in the Merchant Marines at this time stationed in Honolulu, Hawaii. It appears he was a Marine Superintendent. Harriet and their daughters Catherine and Margarete were with him. On December 7, 1941, the Japanese attacked Pearl HarborThe family was not harmed , and soon Harriet and the girls left for home. Thomas was then recruited into Federal Service with the Army Transport Service. I am still awaiting records on this period
In 1943, Tom was still a Marine Superintendent, while his family was living at 177 Walnut St.
Tom applied for his first Social Security Card in 1947. It appears at this time his career at sea was over. He was 66 years old.
In the early 1950's, Tom and Harriet moved to Wellington Ave. in Cranston, not far from the home of their eldest daughter, Harriet. Tom worked as a watchman in the company just down the street.
By the late 1950's, Tom and Harriet moved to Wakefield, RI.. Their son Tom provided them with a small cottage on property he owned at the Wakefield Manor. Harriet ,their daughter and her family were staying in the Manor also. They stayed for a few years, and then moved back to East Providence to a house at 48 Freeborn Ave. This was to be Tom's final home. He was taken ill in late 1960. He died in the Veteran's Hospital in Providence, RI on November 4, 1960. He was 79.
Harriet and her daughter Harriet moved to a small cottage across the street from Catherine and her family.
My grandmother Harriet lived there until she was taken ill in 1963. She then lived at the Eleanor Ann Nursing Home on Grove Ave. where she died on June 27, 1963.
I remember my grandfather as a tall, distinguished gentleman with white hair. I can picture him sitting in his favorite stuffed chair, smoking his pipe. He enjoyed the activity of his large family, especially his many grandchildren. It seems he was content to rest a while as he certainly lived a most exciting and interesting life.
Death Notice in the Providence Journal-Bulletin November 5, 1960
Thomas F. O'Brien
Retired Navy Captain from East Providence Dies at 79
Capt. Thomas F. O'Brien USN (ret.), 79, of 48 Freeborn Ave. East Providence died yesterday at the Veterans Administration Hospital, Davis Park, after a long illness. He was the husband of Harriet (Cole) O'Brien.
Born in Woonsocket, he was the son of Patrick and Mary (Cafferty) O'Brien. He lived in East Providence more than 70 years.
Captain O'Brien entered active service in November, 1917. He served with the Army Transport Service during World War II and was at Pearl Harbor during the attack in 1941. He was a member of the East Providence Council, K of C.
Besides his wife, he is survived by four daughters, Mrs. Harriet Callanan and Mrs. John Stevens, both of East Providence: Mrs. Gordon Thurber of Pawtucket and Mrs. David Lamb of Providence: two sons, William F. O'Brien of San Francisco and Thomas F. O'Brien of Peace Dale, 21 grandchildren and three great grandchildren.
The funeral will be held Thursday at 8:15 a.m. from the funeral home of T. F. Monahan, 230 Waterman Ave., Providence with a solemn requiem Mass in Sacred Heart Church, East Providence at 9. Burial will be in St. Francis Cemetery Pawtucket.