Footsteps Through Time
|
Home


Alfred's Sister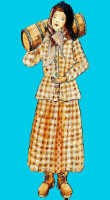 Alfred's Sister Maria
Maria daCosta was Alfred's older sister. She was born in 1876 in Santa Cruz, on the island of Flores, the Azores.
She emigrated at the age of 16 with her brother Alfred, age 12, her mother and grandmother in 1892.
They came to Providence, Rhode Island.
Mary married Jesse Pasquale Ferria on before 1907. They lived at 42 Prospect St. in East Providence.
One daughter, Maria, was born to them, before Maria died at the age of 31 on December 7, 1907.