Footsteps Through Time
|
Home


Mary's Sisters

Little Isabelle
The first child of Anna and Manuel was born late in 1880. Her family lived on a farm, and little Isabelle died of typhoid fever from contaminated well water when she was very young.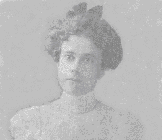 Auntie Maggire and Martha "Peggy"
Auntie Maggie and Cousin Peggy
Margarida Agnes was the second child born in the family. She was born in Dartmouth, MA in May of 1882. Maggie was raised in East Providence. At the age of eighteen she was working as a laundress.
Maggie married Francisco Thomas Marshall, son of Antoine T. Marshall and Louisa Thomas, in the Church of the Holy Rosary in Fox Point, Providence on September 17, 1900. They were married by Rev. Serpa. Frank Marshall was a clerk and age twenty-three when they married.
In 1910, they were living on Fourth Street in the home owned by Maggie's father. They had no children at that time, and Frank was working as a carriage painter. Their only daughter, Martha Marguerite was born on July 2, 1913. In 1915, the Marshalls were living at 48 Phillips Street in East Providence. Sometime later, the Marshalls moved to the Auburn section of Cranston, RI.
Maggie was not well for many years. She passed away on November 1, 1938.
Martha [Peggy] went to work at the City Hall Hardware Company in Providence. It was there she met Mitchell Adams and they married. Peggy worked in the advertising department of the store, and Mitch worked in the television repair department. Peggy won $3000.00 in a lottery, and she, Mitch and Uncle Frank sold the Cranston house and moved to Fort Lauderdale, Florida in 1952. Mitch opened his own TV repair shop, and Peggy worked for the Orkin Extermination Co. They moved to Boca Raton, Florida sometime later. Cousin Peggy, as she was known was a bright and lively lady. She and her husband never had any children. I can remember visiting her home in Cranston. Peggy always had a flair for interior design. Her home was beautiful. At that time, in the 1940's, her home was decorated with a Chinese theme. They had one of the first television sets in Rhode Island. The screen was only about 5 inches square, and it was such an amazing novelty, that everyone stared at the test pattern, eagerly waiting for an occasional program to be broadcast. Mitchell always had an interest in radios and televisions. He had an elaborate ham radio operation set up in his basement. He and Uncle Jimmy spent many hours talking to people all over the world. Peggy always gave me a beautiful doll for Christmas. She adored her father and husband. She also had a great love of animals. There was always a cat lovingly cared for in her home.
Peggy, Mitchell and Frank are buried in Boca Raton, Florida.
Auntie Annie and Cousin Jack


Auntie Annie and Jack , Jr. and Jack Nangle
Anna Evelyn Silva was born on February 24, 1887 in Providence, Rhode Island. She was the youngest of four daughters born to Manuel and Anna Gomes Silva. Annie married John J. Nangle in Sacred Heart Church in East Providence on March 7, 1910. She worked as a department store milliner. John J. Nangle, Jr., her only child, was born in East Providence on August 21, 1911.
Annie and John, Sr. had a stormy relationship. A family story says that she once threw a frying pan at him. They divorced, and he moved to Philadelphia, Pennsylvania and became a policeman. He visited Annie and his son Jack often. He was a veteran of the Spanish American War.
Annie lived in the house owned by her parents on Fourth St. in East Providence. She raised her son there. He was known as "Cousin Jack". He had a wonderful sense of humor, no doubt inherited from his mother Annie. She once dressed up like "Mammy Yokum", a Little Abner cartoon character, with a hillbilly pipe and all. She hid in the closet, and was supposed to come out to entertain the family guests, but everyone forgot she was in the closet! I suppose she came out eventually.
Jack served in the Army during WWII. He married Irene Sequin from West Warwick, Rhode Island after his service. He worked as a bartender and a drummer in a local band.
Annie worked at the Metacomet Country Club in her later years. She died after a fall on January 14, 1952. She was a great, kind lady who brought a smile to everyone.