Footsteps Through Time
|
Home


Mary Isabelle Silva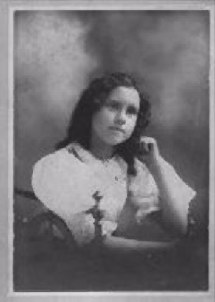 1883-1960
Mary Isabelle Silva
was my grandmother. She was born on a farm in South Dartmouth, MA on July 12, 1883. Her mother's name was Anna Gomes Silva and her father was Manuel Bettencourt Silva. Her parents were recent immigrants from the Azores.
Mary and her family moved to East Providence, RI within a few years of her birth. In 1890 they were living at 10 King Street, near Potter Avenue. They were there until 1898 when they moved to 32 Orchard Street. This was the first home her parents owned. In 1905 her father purchased a three decker house at 74 Fourth Street in East Providence.
As a little girl, Mary liked to play "actress". She and her friend Louise would act in little plays they wrote.
Mary and her sisters Margarida [Maggie] and Anna [Annie] were known for their style and beauty. The whole town knew the "Silva" girls, and they
were admired by the local boys. Mary played the piano, and would often gather family and friends around the piano while she entertained. Sounds of music and laughter filled her home.
Mary loved school. She was proud of her heritage, and also very proud to be an American. She worked hard, as a laundress at age 17, and also as a milliner.
She met a young man, Alfred Jason, and they were married in 1906 when she was 23. Early in their marriage they lived on Cobb Street in East Providence. They had three daughters, Mabel, Viola and Helen.
Their marriage was a happy one. Although not rich by the world's standards, there was plenty of love to go around. Mary sewed many of the clothes her children wore. The collars were always starched and her
laundry was the whitest in the neighborhood. She worked very hard.
Her daughter Mabel was a ballet dancer. In December of 1918 she performed at a recital. It was very cold and she caught a chill. She became very ill and a short time later, she died. The family was devastated. Mary was pregnant at the time with her youngest daughter, Helen.
Early in 1921, Alfred became ill and was confined to the hospital at Wallum Lake in Burriville. It must have been a long and difficult journey for Mary when she visited him there. Her heart must have been so heavy with her struggle to keep the family going after the loss of her daughter, and they the illness of her husband.
Alfred died in May of 1921. He was only 37 years old.
Now, the family responsibilities were on Mary's shoulders. Instead of being defeated, she took matters into her own hands. Viola left school to help out by working at the Outlet Company in Providence at age 14. Mary took her two year old child with her while she did the laundry of a wealthy neighbor. I have the heavy iron flat irons she used. I can imagine how tired she must have been at the end of her long day. She was a single parent, and she was determined to provide for her children.
In 1925 she met someone who would change her life. Viola, her oldest child, was dating a nice young man who was a musician. He came by for a visit one day and his friend Leon Kazarian who was also a musician. Although Mary was 42, she was a very attractive and young at heart , and Leon, who was only 25 fell in love with her. His family tried to prevent their courtship. Leon had to go away with his family to Canada for an extended stay. Despite these obstacles, he and Mary eloped to Taunton, MA on August 5, 1925.
Leon was a loving husband. Times were difficult. The Depression had started and there were no jobs. Leon did whatever he had to do to make a living. He worked as a saxophone player on the New York boat from Providence. He was very often seasick. He also worked in other bands and often times in a Speakeasy as it was also Prohibition. Many times the buildings were raided by the police because liquor was being served and the law was being broken by the mobsters.
A few years later, a neighbor from across the street, Harry Morse, offered Leon a job as a meter reader for the Narragnasett Electric Company. This was the big break for Leon and Mary.
On September 11, 1945, they purchased a little house of their own at 71 Tower Avenue in the Kent Heights section of East Providence. Mary had managed their money very well.
Mary was a wonderful mother and a perfect grandmother to me.
I remember her soft curls and her beautiful face and hands. She would let me play with her jewelry as I sat at her vanity table. She would allow me to pretend I was cleaning out her dresser drawers, when I was really discovering all the little treasures she kept there. Sleeping at Grandma's meant having a pillow slip ironed and smelling of lavender. She would make the best grilled cheese sandwiches and pancakes for me. Her pies were legendary, blueberry especially, and the soft molasses cookies and the sugar raisin filled ones we still try to imitate at Christmas.
No one could make pot roast with peas and stringbeans and lightly browned roasted potatoes like she did. And of course, we shared ice cream and tiny chunks of watermelon.
She loved her "stories" on the radio. Helen Trent and such, and when I was very small, we would listen to Suspense and The Shadow in the parlor.
Coffee ice cream was her favorite, and we would buy it at Mrs. Leonard's Drugstore on Warren Avenue when I was little.
She was a whiz at crossword puzzles, even wrote her own dictionary. Jigsaw puzzles were always on-going, her card table set up in the den for any one to find the missing piece. She crocheted flawlessly, any thing from a delicate chair back doily to a heavy wool afghan. Her hands and mind were always busy.
She did not always feel well. For many years she had bronchial trouble and hearing problems, but she never complained.
She was content to be at home, but in 1944, she and Leon took a train across the United States to visit my parents and I while we were living in California.
There were always flowers in her yard which she lovingly tended.
My Grandmother was a very special person, the finest ideal of a woman, a mother and grandmother.
Her devotion to God and to her family has set the standard for those of us she left behind.
On September 7, 1960 Mary died while on a trip to Newburyport, MA.
There are many memories of her here with us. Warm afgahans, lacey doilys, crocheted doll clothes. Her presence is always felt.
She will always live on in our hearts.