Footsteps Through Time
|
Home


Patrick Farrell O'Brien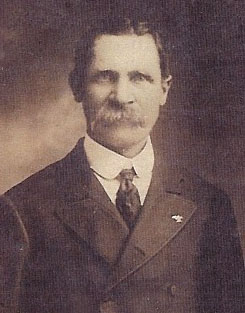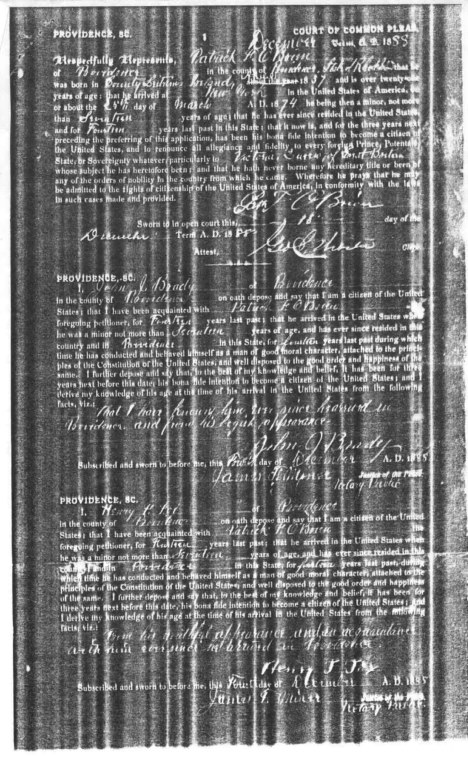 1854 - 1939 Patrick's Naturalization Papers
Many years ago, a young man of twenty said good-bye to all he had ever known. The year was 1874. Patrick Farrell O'Brien was leaving the country of his birth. He was sailing to "Amerika". This would be the greatest adventure of his young life and this event would chart the course for generations to come.
Patrick was born on a farm in Cornamuckla, County Leitrim,Province of Connaught in the west of Ireland. His father , Thomas, was a sheep farmer, as was his father, Francis, before him. Patrick's mother was Mary Farrell O'Brien. She had been born in the townland of Clooncowley, County Longford which borders Leitrim. It was her maiden name that was given to Patrick on May 3, 1854 when his parents took him to the Saint Joseph's Church to be baptized.
Patrick was one of seven children, five boys and two girls. Their home was set high on a hill overlooking fields of emerald green grass, outlined with hedgerows of yellow gorse.The wild Irish winds blew across these fields. The mist and rain nourished them. The people were close to the land. It was all they had. Although they lacked material wealth, their wealth was far greater, a culture handed down through the centuries. Lovers of stories they were, and of poetry, music and dancing. Tales were told by peat fires of heros long ago. Strong family ties held them together, and above all, they had faith in their God who would always sustain them.
Mary and Thomas would say good-bye many times. Six of their children would leave. There was no choice you see. The English had come. There were rules and taxes, and a plan which would one day see more Irish sons and daughters around the world than in their beloved Ireland. The English wanted the land, and so one after the other, they left for for America.
Young Thomas, Patrick's oldest brother went first. He worked and saved and sent home money for Patrick's passage, and he in turn, did the same for the next. Only one son was allowed to inherit the land, and it was decided that James would stay.
Imagine the heartache of parents who would never see six of their children again. Imagine the pain in the eyes and hearts of those who left. It was the only choice they had. And so, Patrick left, winding his way down from the little thatched cottage, with the smell of peat smoke in the air, down the road, through the fields to a coastal city some distance away to await a sailing ship which would take him away forever.
I stood on that hill not long ago, and looked down that winding little road which is still there today, and I thought of Patrick. I could almost see him in his cap and woolen jacket, with his old life packed in a small bag, heading into the unknown.
The farm is beautiful. The fields meander over hills where cattle graze now. The tiny thatched roof home is gone. A new home stands on the foundation of the old. The farm buildings are new, clean and well cared for. It was left in able hands. In the hands of an O'Brien, despite the English. James saw to that, and his son Patrick, named for his brother who left so long ago, and his son Thomas who farms there now. For more than two hundred years an O'Brien has nurtured that land and it is flourishing. The peat is still cut from their own land. It still warms the house as the smoke curls up from the chimney. The people inside are kind, good people who make you feel welcome with a hot cup of tea, who make you feel you are home again.
Patrick built a good life here in Rhode Island. He married a Leitrim girl from Ballinamore. Her name was Mary Cafferty. They may have known each other while still in Ireland, or they may have met as they sailed away, young immigrants, half scared, half anxious for the adventure.
He lived with his brother Tom for a while working as a laborer. Just about five years after he arrived in Providence, he married Mary in Saint Joseph's Church on Hope Street on August 19, 1879. The young couple then moved to Woonsocket where Patrick found work in a rubber boot factory. Their only child, Thomas Francis Joseph O'Brien was born there in June of 1881.
Patrick worked hard, as a factory worker, a laborer and a teamster. Before the turn of the century he had earned enough to buy a little home on Massasoit Avenue in East Providence
It has been said by those that knew him, he was a good, kind and gentle man. That is a wonderful legacy to leave for his family and for the generations to come.
It all started in that little thatched cottage on the lovely green hillside in Aughavas.
I stood there. Patrick, I hope you were watching.