Footsteps Through Time
|
Home


Flurry and Mary-Margaret Sullivan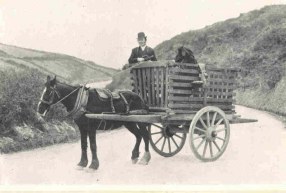 Couple going to Mass Co Kerry
Florence "Flurry" Sullivan was born in Ireland between 1820-1830. The masculine name Florence was quite common in Co. Cork and Kerry in the south of Ireland, especially in the Sullivan family. The name is from the Gaelic "Flaithri" which means "king of princes, from "flaith" (prince) and "Ri" (king). The name is sometimes shortened to Flurry, and that is how his name appears on the 1880 census of East Providence, RI.
Flurry and Mary Margaret lived in the Watchemoket section of that town. He was the son of Timothy and Julia Sullivan, and the brother of Timothy Sullivan who also came to Rhode Island. Florence worked as a laborer. He was 57 when he emigrated.
Mary Margaret was also a Sullivan before her marriage. Her parents were John and Catherine Sullivan. They were married in Ireland. She was 55 when she came to the United States. They may have more children before the birth of Julia Ann in 1861. It is possible she was their youngest child. Julia and her parents came to the United States in 1877. Mary Margaret had two sisters, Catherine and Joanna. They also emigrated, and both married Falveys, Michael and Jeremiah. She may have had other relatives, perhaps cousins, Simon and Dennis Sullivan. These Sullivans also came to East Providence and appear to be related, as well as the family of Cornelius Ahern. They appear often as witnesses for marriages and baptisms.
After the marriage of their daughter Julia to Arnold Cole, Mary and Flurry left East Providence and by 1886 were living at 390 South Main Street in Providence. It appears they were living near other Sullivan relatives.
Florence worked as a laborer most of his life in this country. He died on July 6,1890 while living at 392 South Main Street in Providence.
On December 11, 1897, Mary Margaret died at the home of her daughter, Julia Cole in East Providence. Flurry and Mary Margaret are buried in St. Patrick's Cemetery on Douglas Avenue in Providence, RI.